Get the newest cars, best rates, most availability and FREE shuttle service!
Book with confidence Real-time availability, instant confirmation, and free cancellations.
Top quality rentals Get around Key West easily and safely with our brand-new vehicles.
Free hotel shuttle Complimentary shuttle service for vehicle pickup and drop off included.
Award-winning Support Friendly customer service is always here when needed: Call, click, or chat.

Free Cancellation
You'll receive a full refund if you cancel at least 24 hours in advance of most of our vehicle rentals.

Verified Reviews
Book with confidence with thousands
of verified traveler reviews from
Key West Electric Cars and TripAdvisor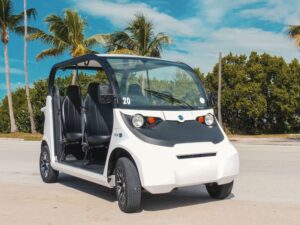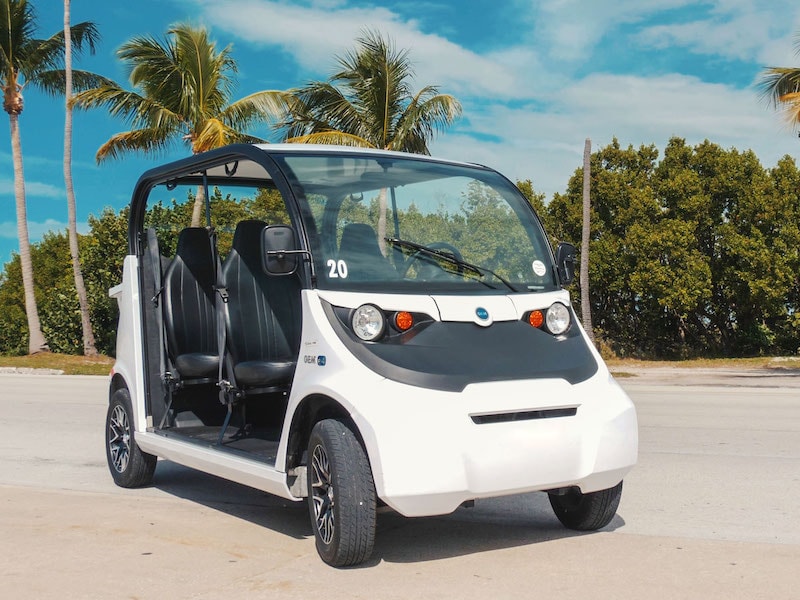 Key West Electric Cars
Explore Key West in comfort and ease when you select one of the great electric vehicles from Key West Electric Cars. Avoid high taxi fares and congested downtown parking when you pick up and drop off your electric car. Fast, secure online booking and free shuttle service from Key West hotels for pick up and drop off makes renting an electric car a breeze. Visitors arriving by cruise ship can pick up an electric car just a short walk away from Mallory Square.
Why walk in the hot weather when you can save time and have fun in an electric car that can safely carry up to six adults to all the top sights on Key West? Key West Electric Cars offers the best selection of Key West electric car rentals on the island along with handy EZGO golf carts, and zippy 1- and 2-passenger scooters.
Key West Electric Cars is your home base for alternative transportation options that will get you around Key West while making parking a breeze and keeping your carbon footprint low. If you want to explore Key West together with family or friends, first explore your island transportation options at Key West Electric Cars.
Highlights
Electric car, golf cart, and scooter rentals
Easy online reservation and rental services
Instant delivery of vouchers, tickets, and details
Best values in the city and 100% secure booking
Great customer service available by phone or email
Ride Island Style in an Electric Car
Is a Key West electric car a good choice for getting around the island? Well, it doesn't take long for visitors to notice that Key West locals enjoy a wide and creative range when it comes to modes of transportation.
Streets are narrow in this tiny island city, particularly in the Old Town Historic District, and traffic is often congested as thousands of guests arrive every day. Parking is limited, and spaces can be very difficult to find, especially downtown and near popular attractions. Speed limits are low and the pace of life is slow, creating a situation amenable to ditching the car or SUV and trying something different.
Naturally, the locals who travel the island streets day in and day out have learned how to move around efficiently and have as much fun as possible doing so. Skateboards and bikes are everywhere, scooters are ubiquitous, and a variety of modern electric vehicles ply the streets.
Great weather year-round encourages open-air transport, and alternative rides help to beat traffic and keep stress levels low while keeping the island vibe flowing. And of course, reducing emissions helps the environment and preserves the natural beauty that is such an important part of the Key West experience. For visitors wanting to enjoy an island-style ride, our electric cars are an obvious choice.
Move Your Group with an Electric Car
An electric car is a great way to explore the island with a group. Available in 4- and 6-seat configurations, these American-made vehicles are fully equipped to be driven on public streets and carry adults in comfort and safety.
High-back bucket seats are spaced to allow generous legroom, and each seat has lap and shoulder safety belts. Standard automotive tires and nearly 6 inches of suspension travel provide a smooth, stable, car-like ride. A front windscreen and top shade roof protect passengers from the elements, and the fully-open doorless sides let in the fresh breeze and are perfect for sightseeing and taking photos.
Key West is full of attractions and most visitors will be making many stops all around the island. These electric cars are very easy to hop on and off of, even for larger groups. A full-size van cannot match the ease and simplicity of getting on and off one of these open-sided electric cars. And there is no comparison between getting into a regular vehicle that has been parked in the hot Key West sun and climbing into your seat on an open-air electric car.
Our goal at Key West Electric Cars is to present Key West visitors with the best alternatives in clean, efficient island transportation. The Polaris GEM electric cars featured by Key West Electric Cars are commonly used as shuttles at airports and convention centers, and on corporate and college campuses. They are made to be extremely user-friendly. On a small island like Key West, there is really no better vehicle for effective, economical group transportation.
Book Online with Key West Electric Cars
A Key West vacation is much more relaxing when all the details are planned and arranged ahead of time. Whether you want to zoom around on a one-passenger scooter, need a 6-passenger electric car or even an 8-seat EZGO gas-powered golf cart, we can meet your needs. And with our Internet-powered booking system, we do it in a way that makes the rental process fast and convenient so you avoid wasted time and worry during your Key West visit. Secure online booking makes it easy to reserve your electric car so it is ready right when you want it.
Key West Electric Cars lets you access the safest, best-maintained Key West electric car rentals with a few clicks. Flexible rental slots from 3 hours and up, great rates, and no need to bother with phone calls and reservation paperwork – an email arrives instantly with vouchers and all the details you need to pick up your car and head out on your Key West tour.
It's the modern way to take care of your vehicle rental needs, and you can enjoy the advantages of booking through Key West Electric Cars while knowing that all your personal data and every transaction is encrypted and secure. If you need help or more information, our web-based electric vehicle rental center is backed by an excellent customer service department that is always in reach by phone or email.
Key West Electric Cars presents Key West visitors with the best options on the island for clean alternative transportation. Whether you are looking for an electric car, a golf cart, or a speedy scooter, Key West Electric Cars lets you leverage the power of the Internet, cutting-edge booking technology, and deep local knowledge to find the transportation option that helps you make the most of your Key West vacation. Find your Key West transportation solution now with Key West Electric Cars!